Latest iPhone unveiled in States
发布时间:2023-09-15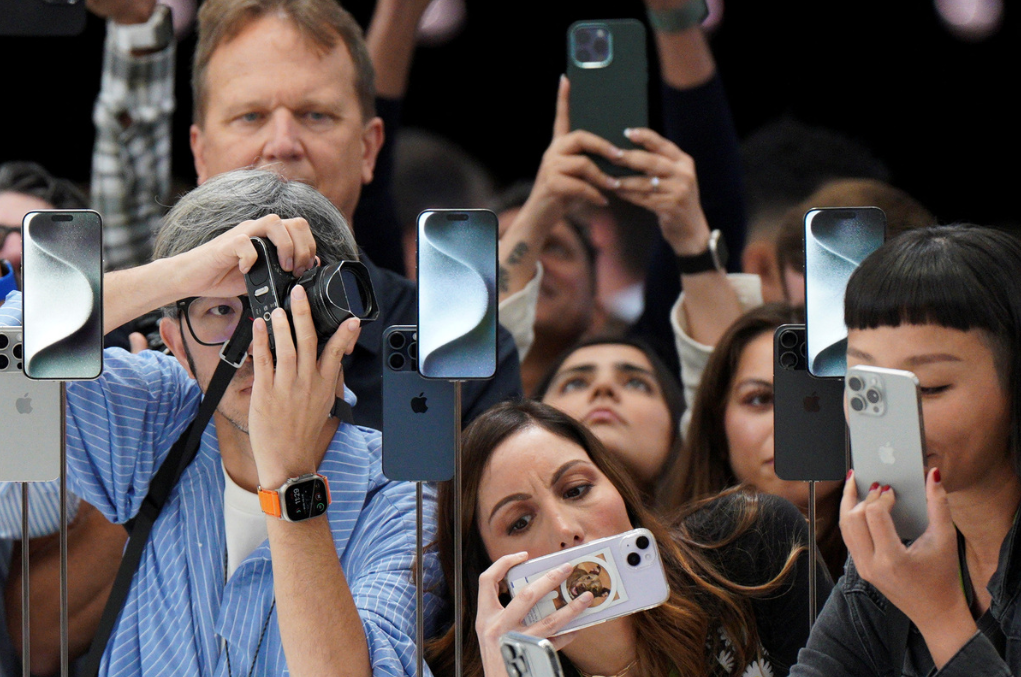 People take pictures of iPhone 15 Pro during the "Wonderlust" event at Apple Inc's headquarters in Cupertino, California. REUTERS
Experts say Apple facing increasing competition in China, Huawei's home turf

Tech heavyweight Apple Inc's latest smartphone, the iPhone 15 Pro, is powered by the industry's first 3-nanometer chip, but the new model will face growing competition in China from Huawei Technologies Co, experts said.

The comments came after Apple debuted its new iPhone 15 lineup on Tuesday during its "Wonderlust "product launch event in Cupertino, California.

Apple said its new self-designed 3-nm A17 Pro chip brings improvements to the entire semiconductor chain, including boasting the biggest graphics processing unit redesign in the company's history. Generally, the smaller the size — which indicates the distance between transistors — the more powerful the chip.

Ben Bajarin, CEO and principal analyst of Creative Strategies, said in a report, "They spent a lot of time emphasizing the GPU and that's very telling. Camera, chip, GPU, visual experience, gaming — this is the next platform that takes the iPhone the next four to five years."
Roger Sheng, vice-president of research at US market research company Gartner Inc, said Apple has been working hard to beef up its in-house chip abilities in recent years.

Apple's iPhone 15 series comes after Huawei started selling its Mate 60 series in late August in China, which was warmly received by local consumers.
Market research company International Data Corp said in a note that the iPhone 15 series is fully upgraded, but will face greater challenges in China.
Guo Tianxiang, senior analyst at market research company IDC China, said Chinese handset makers have made some progress in the segment by relying on continuous technological innovation and brand building, but Apple still has clear advantages in the premium smartphone space.
"In the future, however, with the return of Huawei and the efforts of other domestic Android manufacturers to establish their own high-end product rhythm and brand image, Apple will face greater challenges in China," Guo said.

Apple accounted for 67 percent of the Chinese market for high-end smartphones with unit prices above $600, with Huawei accounting for some 15.6 percent with its 4G phones in the first half, said IDC.

Martin Yang, an analyst at investment firm Oppenheimer, said that due to the launch of Huawei's new Mate 60 series of handsets, Apple's iPhone shipments in 2024 are likely to decrease by 10 million units.
A Chinese netizen named "happy kuaile" said in an online post that by just judging from the launch event, it could be assumed that it was Apple and not Huawei that had been under US government restrictions for three years as the netizen was not very impressed with the iPhone 15 series.

China is now the second-largest market for Apple, and it remains one of the first 40 countries and regions where the iPhone 15 lineup will become available in physical stores on Sept 22.

Food delivery platform Eleme said on Wednesday that it will collaborate with nearly 3,000 authorized Apple stores in over 330 cities in China this year to sell iPhone 15 smartphones on its platform beginning Sept 22, with deliveries being as quick as 30 minutes.
The launch event marks Apple's push heading into the fourth quarter, which is normally when the company reaches its highest sales thanks to new iPhones and a holiday season boost.
But the global smartphone market has been experiencing a decline for some time.
Market research company Canalys said the worldwide smartphone market fell by 10 percent year-on-year to 258.2 million units in the second quarter.
By MA SI | CHINA DAILY | Updated: 2023-09-14 06:50
https://www.chinadaily.com.cn/a/202309/14/WS65023ca5a310d2dce4bb5947.html